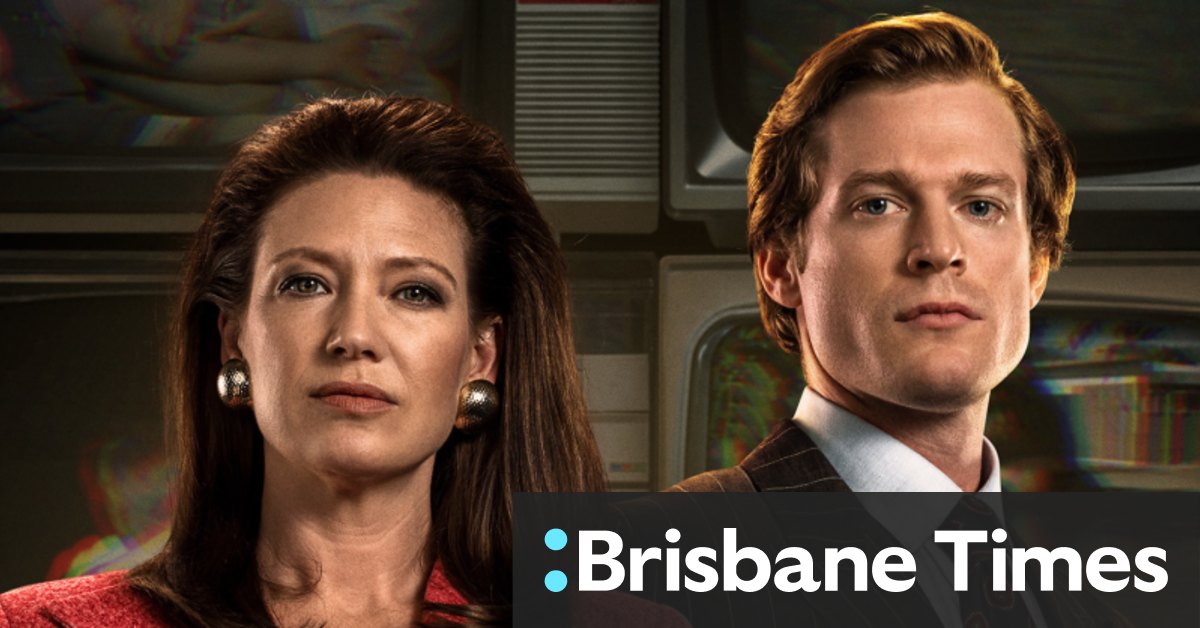 ABC's The Newsreader is Anna Torv's happiest creative experience
[ad_1]
Loading
While Freeman was concerned that wearing a mask would affect his ability to communicate with his cast, their enthusiasm for his approach suggests no alteration. She is both clear in her vision and collaborative.
Torv (Fringe, Spirit hunter), who worked with Freeman on Secret city, echoes the enthusiasm of his co-star. "Shooting The news reader, there was a freedom and a safety net and an absence of judgment. Michael and Emma are confident enough to have an open discussion and allow things to change. What Michael wrote was what we shot, but there was a lot of nuance between the two and I felt like it evolved as we shot it.
At the heart of the drama are Reid and Torv, with Torv playing an outwardly tough and ambitious reporter and pioneering presenter who made it to the office despite the unease of her co-host, veteran Geoff Walters (Robert Taylor ). Reid's Dale aspires to make it happen.
Lucas explains that his story takes place at a time when it seemed like news readers were "unassailable." For him, "they were worthy and you trusted them, although this feeling of trust in the information has been called into question recently".
His idea of ​​the character of Dale predated the TV newsroom setting: "I always wanted to write a protagonist who felt that there was this version of masculinity that they needed to fit into, but that it was not a natural choice. They were desperate to be the person the world wanted them to be. I thought there was a great comedy and a great tragedy there. And he's always been associated with a volatile woman. I have developed many different versions of the complicated relationship between them.
The fact that he eventually moved into a TV newsroom had its perks. In plot terms, this allowed him to bounce back from real events, which provided practical dramatic triggers for a writer accustomed to the rhythms and demands of relationship dramas and comedies, including Offspring and Rosehaven.
While capturing the changing nature of media coverage, her gripping drama also features a study of power and gender relations at different levels. Most importantly, Helen's clashes with her intimidating and abusive boss as she struggles to cover difficult news and not be relegated to the softer, human-interest options.
Composed and confident in front of the camera, Helen, like many characters, hides another truth. Publicly, she can stand up to her boss's tirades, but privately, she pays the price. Torv describes Helen as both self-aware and "a traumatized human." She's more fragile than she looks, as Dale inadvertently finds out.
Lucas explains, "Helen works in this toxic environment where she tries to make her way through, with no allies. Dale becomes his ally.
In part, the complex relationship between them grows because they are soul mates, "strangers pretending to be insiders," as Reid puts it, and they recognize and respect each other's driving ambition.
"It's kind of a classic buddy movie in some ways," says Lucas. "But their relationship is more complicated because it becomes romantic, which is a boon for both of their careers, but things unravel as the series progresses."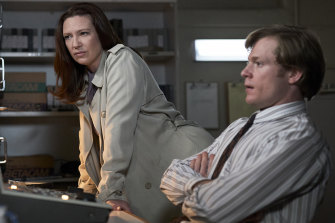 As their relationship develops, the drama probes the chasm between the public faces and the private lives of several of the characters. "Michael really brought out that element," says Reid, "these masks that we all wear. "
The quintessential sports journalist Rob (Stephen Peacocke), for example, has an ease in front of the camera that Dale can only aspire to, but the possibility of being promoted to weekend newsreader arouses his insecurities. The obliging production assistant Noelene (Michelle Lim Davidson) is treated like a bitch, sent to fetch Polly pies and waffles and asked if she speaks Japanese when her heritage is Korean. There is an ingrained culture of prejudice and abuse that plagues everyone.
Loading
At all levels, the production shows thoughtful and meticulous care: the evocative sets of production designer Melinda Doring; the striking costumes of Marion Boyce; the fog machine that generates the smell of cigarettes for the ambience on the set and creates a barely noticeable haze on the screen. The stories listed on the newsroom whiteboard relate to their appropriate day; the reports on the television screens in the office reflect true stories.
And if the series' evocation of the time is precise and acute, the questions it raises, related to media coverage, public images and gender and work relations, are as relevant today as they are. they were in 1986.
It's not hard to see why Torv says, "Do The news reader has been one of the most satisfying and joyful creative experiences I have ever had.
The news reader premieres on ABC Sundays, 8:30 p.m.
[ad_2]