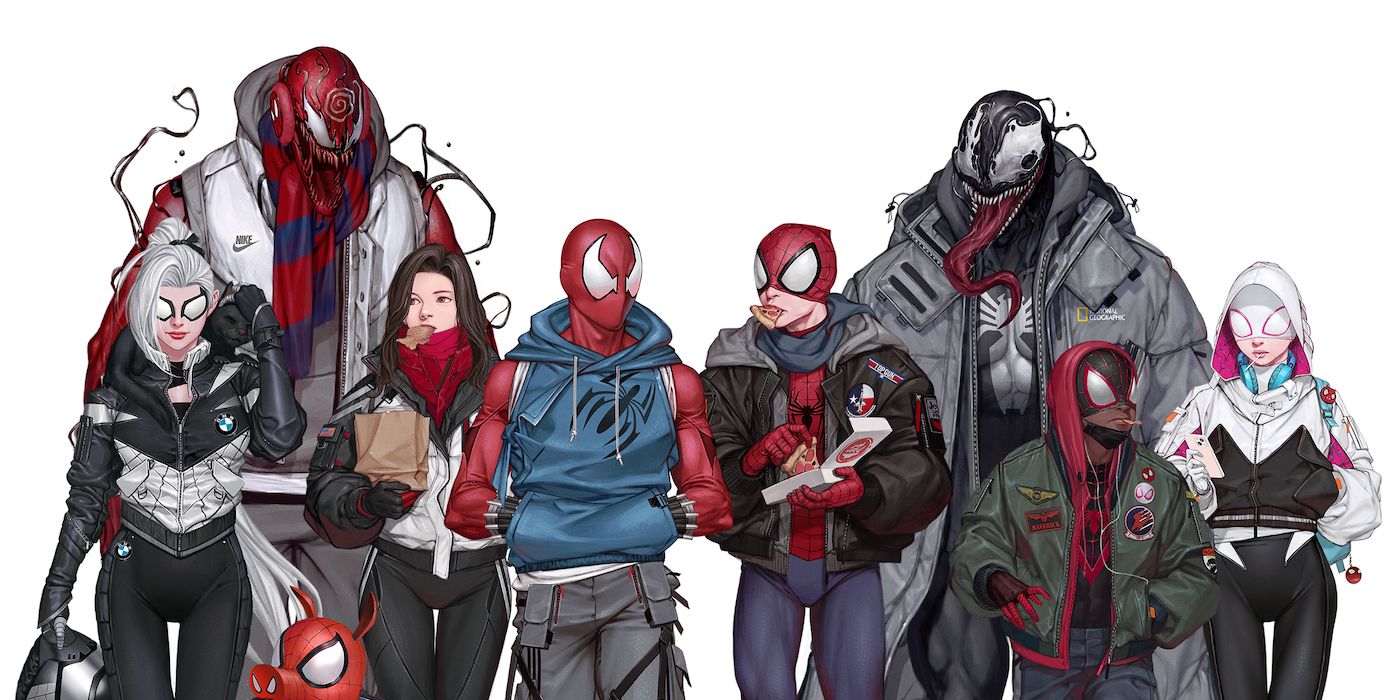 Marvel Artist Draws Spider-Man Family In Casual Street Gear
Famed Marvel cover artist In-Hyuk Lee drew the Spider-Man family hanging out together in causal street gear.
Lee posted the illustration on his Twitter account, where he updated the design every few days with new character additions. The latest addition is Scarlet Spider/Ben Reilly, who can be seen walking side-by-side with Spider-Man/Peter Parker. Other heroes and villains featured in the pic include Night Spider/Felicia Hardy (who debuted in the recent Edge of Spider-Verse series), Carnage, Spider-Ham/Peter Porker, Silk/Cindy Moon, Venom, Spider-Man/Miles Morales, and Ghost-Spider/Gwen Stacy.
RELATED: What If Spider-Man Merged With Kraven the Hunter Before Edge of Spider-Verse
Lee's Art Comes As Spider-Man Celebrates 60th Anniversary Since His Debut In amazing fantasy #15 in 1962. To celebrate the occasion, Marvel relaunched The Amazing Spider-Man with writer Zeb Wells and artist John Romita Jr., who launched the series' 900th issue last July. Marvel also launched Spider Man, a second ongoing series featuring the Wall-Crawler by writer Dan Slott and artist Mark Bagley. During this time, the amazing fantasy #1000 anthology one-shot brought together top talent including Slott, Romita Jr., Ryan Stegman, Jonathan Hickman, Marco Checchetto, Kurt Busiek, Neil Gaiman, Olivier Coipel, and Jim Cheung, among others.
Several limited series are also planned for the coming months, including gold goblin, Mary Jane & Black Cat: Beyond, Deadly Quarter Spider-Man and Spider-Man: The Lost Hunt. This is in addition to other ongoing Spider-Man series in progress, including Spider-Man: Miles Morales, Venom and Carnage.
RELATED: Christopher Cantwell Talks Golden Goblin and Finding Empathy for Norman Osborn
Spider-Man will also be at the center of the dark web crossover, which will debut in December with dark web #1. Ben Reilly, who now goes by Chasm, and Madelyne Pryor/Goblin Queen will be the main villains for the event, which will tie into Venom, Golden Goblin and Mary Jane & Black Cat: Beyond. It will also feature two complementary series: Dark Web: X-Men and Dark Web: Ms. Marvel.
Lee is best known for his covers and has recently illustrated variants for AXIS: Judgment Day #5, X Terminators #1, Predator #1, Gambit #1, x-men #12 and Venom #8. He also designed the main covers of Devil's Reign: Omega #1 and five numbers from Silk (2022).
Source: Twitter