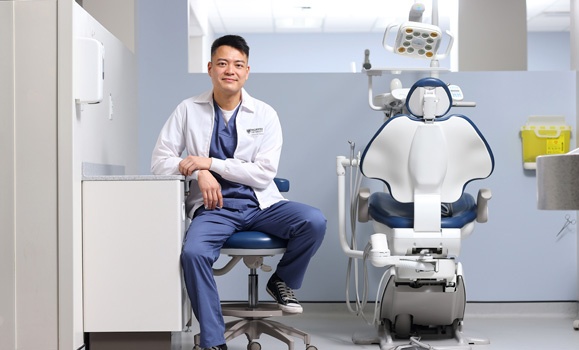 Profile of a graduate: from science teacher to dental hygienist – Dal News
This article is part of a series focusing on the Dalhousie Class of 2022 graduates. Spring Convocation runs from May 24 to June 3 in Halifax and Truro. Read all of our profiles here as they are published, and for more information visit the Convocation website.
Growing up in Halifax, Geoff Seto (DDH'22) didn't go to the dentist often — only for emergencies. His parents, who earned a modest living, had limited access to dental care during childhood, so they never learned the importance of regular checkups. But a few years ago, her mother's battle with cancer changed the family's outlook on oral health.
At some point in his cancer journey, Geoff's mother needed a liver transplant. After the operation, the mixture of anti-rejection drugs she was taking caused her to develop oral thrush, a yeast infection on her tongue and throat that made swallowing extremely painful.
"Mom said it was excruciating and 100 times worse than surgery," says Geoff. "This experience has given her a whole new perspective on oral health and how it can have a huge impact on quality of life. And it opened my eyes to the importance of preventive dental care and hygiene.
After graduating with a degree in microbiology from Dalhousie University in 2010, Geoff knew he wanted to pursue a healthcare profession, but as an undergrad he never considered hygiene. dental. Undecided about furthering his education, he spent 10 years working as a science interpreter at the Discovery Center in Halifax, where he found he enjoyed working with children, teaching science and traveling around the province making community awareness.
So it's no surprise that when Geoff started the dental hygiene program as an adult student, he found that his favorite patients were children. "At Harbor View Elementary, we saw many children with decayed teeth and cavities who may not have fully understood the importance of brushing their teeth and going to the dentist," he says. "I like to tell stories and jokes to make them feel comfortable in the dental chair."
A great example of a fun story that got the kids at the Discovery Center booed is this: when someone challenged him to eat a burger with 10 patties on it, he accepted – and succeeded! Although the order surprised the waiter at Wendy's, he got his big burger and ate it in one sitting.
"It wasn't nice, but I did it," Geoff laughs. The nickname he earned – Ten Patty Fatty – stuck. "Every year after that, I would meet siblings of kids from the previous year's summer camp, and they would call me Ten Patty Fatty."
A new career path
Although Geoff loved working at the Discovery Center, he wanted to explore new opportunities. After the science center closed at the start of the pandemic, he returned to college to pursue a new career.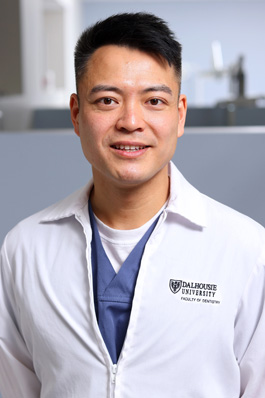 One of only two male students in his class of 29 graduates, Geoff chose Dal for dental hygiene because he enjoys a good reputation both at home and abroad. Initially, he was challenged by the volume of course content – ​​and by the COVID-19 closures and shift to online learning.
Geoff's comfort level with his peers and professors helped overcome any nervousness. "What I enjoyed most about my time here was getting to know my classmates and my instructors," he says. "We'll probably keep in touch after we graduate."
Geoff also appreciated the variety of the program. In 2021 he worked as a summer research student on a project investigating how xerostomia (dry mouth) affects speech, chewing, swallowing and quality of life. He asked people to eat crackers, measured their saliva flow and collected sputum samples for analysis. "It was a great experience, for sure," he says.
Although he found the project interesting, Geoff does not see himself pursuing a career in research. Instead, he hopes to one day combine clinical practice with community outreach and teaching — ideally somewhere in Halifax, where he'll be close to home so he can care for his parents as he grows older. they age.
Waiting for the sequel
For now, Geoff is focusing on writing his exam, job prospects, and taking time to reflect on his dental hygiene school experience. "It's a challenging program, but also very rewarding," he says. "We have fantastic instructors who go above and beyond, encouraging and helping us get to where we are today."
When Geoff graduated in microbiology from Dal, he did not attend his graduation ceremony. "It didn't seem that important to be there, it was just like a piece of paper," he says. "But I'm planning on going to this one, which will feel more personal to me due to our small class size. It will be fun to walk across the stage with my classmates and celebrate what we have accomplished. »