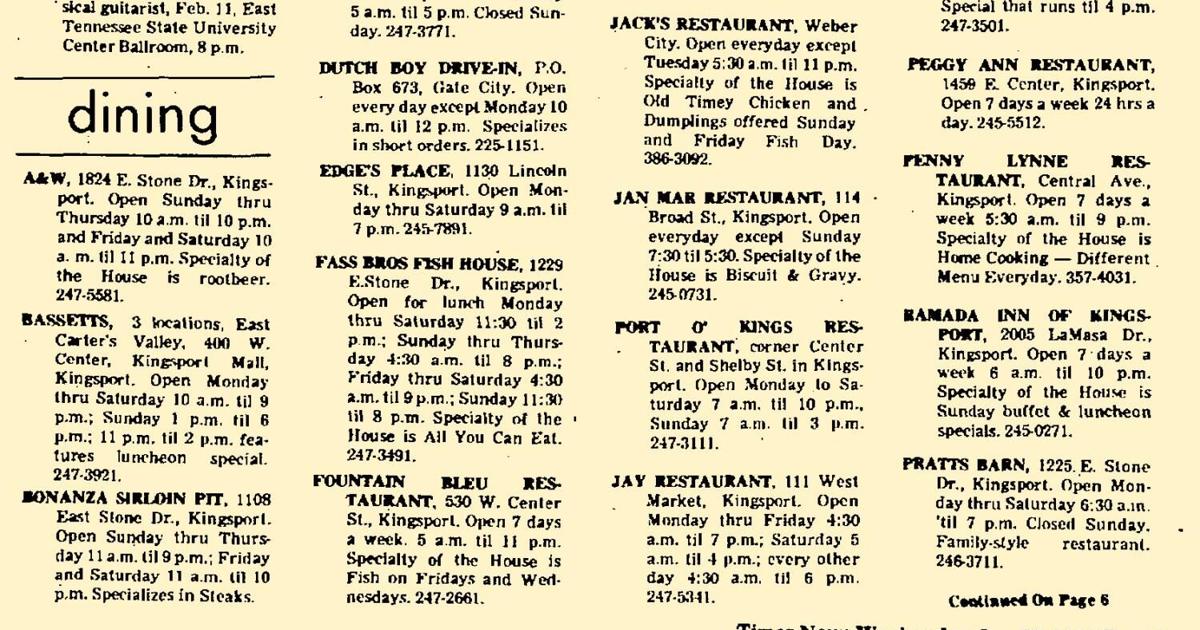 Relatively few restaurants remain today from the 1975 regional directory | Food
[ad_1]
Guess, off the top of your head, how many restaurants across our region that were open in 1975 are still in operation. Read on and I'll give you the short (perhaps incomplete) list.
The closure of Rush Street Neighborhood Grill after 41 years of serving Kingsport and diners in the surrounding area is, of course, a sad thing. Some people seem surprised that a "device" for so long would simply cease to be there.
But 41 years is a long life for local restaurants, as far as I know. Last week I wrote about the Fass Brothers Fish House, the pop-up chain that built a restaurant at 1229 E. Stone Drive. The Fish House survived there, under the sight of most motorists on the "Super Highway," for three to four years in the mid-1970s.
Searches for last week's column included browsing through the "dinner" options listed in the "Weekender" section of The Times News from early 1975.
Over 100 restaurants have been listed in the Tri-Cities area, including some establishments in Gate City, Church Hill and other areas outside of Kingsport, Bristol and Johnson City. I had heard of many if not most. The memories of some resurfaced as I scanned the list.
In 1975, I would have been 12 years old. This roughly coincides with when my family started eating regularly, if not regularly (we didn't take this step until I was 16). At 12, I had little influence over the restaurants we frequented. I enjoyed them all. We ate a lot of meals at the Center Street Restaurant and the Mountaineer. Bonanza seemed to be at least one thing a week.
Center Street Restaurant is where I first ordered a Chef's Salad, which for a 12-year-old seemed like the pinnacle of food. That's when I fell in love with the Thousand Islands vinaigrette. To this day, a chef's salad has been a comfort food to me.
I'm pretty sure it was at Jack's Restaurant where I watched my Aunt Ova stir her freshly served cup of coffee with the handle of a spoon, holding the utensil by its "bowl." Seeing my quizzical look, she explained, "I'm doing this because I can't stand the thought of how many mouths the tip of a spoon is in and wondering if the dishwasher is working well."
"But you put the part that was treated by everyone in your coffee shop and you don't know how dirty their hands were or if they washed after going to the bathroom," I said, ending. to Aunt Ova's pleasure from her coffee, the spoon, and maybe eating out in general for a while.
About 40 of the 100 restaurants listed in 1975 for Weekender readers were in or near Kingsport. The listings spanned the gamut from fast food chains to upscale local restaurants.
Notable among the fast food choices (at least for me):
• McDonald's had two branches in Kingsport (1620 E. Stone Drive and 2330 Ft. Henry Dr.), and one in Johnson City and one in Bristol.
• Burger King had a location in every city.
• Pal's had three locations, all in Kingsport: Revere Street, Lynn Garden and Memorial Boulevard (across from J. Fred Johnson Park and the old Tennessee Highway Patrol building, before this section of Memorial became part of Fort Henry Drive).
• Burger Chef was on Lynn Garden Drive (where Dairy Queen operates today), and Ray's Kingburger was on West Center Street across from Cloud Park.
• Biff Burger had apparently closed its Kingsport location on the corner of East Stone and North Eastman, but it remained in business in Johnson City.
• Hardee's had a store at 1005 E. Stone Drive.
• Dairy Queen's only Kingsport location was also on Stone Drive at Gibson Mill Road. Another DQ was operating in Bristol.
• Orange Bowls was located in Kingsport Mall and Miracle Mall in Johnson City.
• Bell's Henny Penny had offices in Bristol and Johnson City.
• Long John Silver's had two branches in Kingsport (Stone Drive and Fort Henry Drive) and one in Johnson City.
• Dipsy Doodle drive-in was at the corner of Fort Henry Drive and Moreland Drive. Chuck's Drive In was at the intersection of Industry Drive, Center Street, and Netherland Inn Road. The Dutch Boy Drive-In was in Gate City, as was the Campus.
• An A&W was open on Stone Drive in Kingsport. Woody's was a staple in Gate City and some would say it offered a rite of passage of sorts.
• Kingsport had Oakwood Cafeteria and LeRay's Cafeteria. Johnson City had Rolfe's cafeteria.
Moving on to 'sit down / full service' restaurants, Bonanza Sirloin Pit was located at 1108 E. Stone Drive, Western Sizzlin 'Steak House was also on East Stone Drive, and Johnson City had a Ponderosa.
• The Joe Gong restaurant (no, not possessive, at least not in the Weekender in 1975) was on Fort Henry Drive.
• The Del Mar was at 808 E. Main St., the Jan Mar was at 114 Broad St., Jack's was in Weber City, and the Mountaineer was in Church Hill.
• Peggy Ann Restaurant was on East Center, Shoney's Big Boy on Fort Henry Drive, and Blue Fountain on West Center, as was Center Street Restaurant.
• About a block away, the Texas Steer Family Restaurant was in operation.
• Bassett's had three locations: East Carters Valley, 400 W. Center St. and in the Kingsport Mall.
• Waffle House was open at 1700 E. Stone Dr.
• Pizza Hut had three locations in Kingsport (807 Lynn Garden Dr., 1616 E. Stone Drive and 2329 Ft. Henry Drive) and one location each in Bristol and Johnson City.
• Greg's Pizza was open in Johnson City.
• Hotels with restaurants included the Holiday Inn on Lynn Garden Drive and the Ramada Inn in East Stone and John B. Dennis Bypass.
• Ridgewood was open near Bluff City.
• Peerless was at Johnson City.
• Skoby's world was in Kingsport.
• The Pastor's Table had opened in Jonesborough.
• Pratt's barn was where it still stands today. Same as Lynn Garden Restaurant and Nick's (although the latter plans to move to a new building soon).
I have already listed more than I thought I would include here. But now, if you've read this far, you are probably seeing a trend. With a few exceptions, and excluding fast food altogether, many restaurants have followed one another.
I have no idea how the restaurant list was compiled for the Weekender section of The Times News in 1975, and it obviously wasn't a definitive census of restaurants open at the time.
But it is quite large. And say.
From my best consideration of the list, some of the restaurants that survive today are Campus Drive-In, Lynn Garden Restuarant, Nick's, Pratt's, and Ridgewood. There is a Dairy Queen in Kingsport, but in a different location.
Burger King on East Stone Drive may be in the same location, but I'm not sure. McDonald's in Fort Henry and its next door neighbor Long John Silver's have each been torn down and rebuilt next to their original locations (basically buildings and parking lots have changed places in every business I think). Waffle House on East Stone Drive was similarly rebuilt.
Pal's Revere Street and Pal's Lynn Garden are still in business, along with more than two dozen additional locations for the now regional chain. This Memorial Pal Boulevard closed when the intersection between Eastman Road and Fort Henry Drive was improved. But a "new" Pal's Sudden Service is now operating a stone's throw away on Fort Henry Drive. The Memorial Drive location, I believe, was the first Pal to offer drive-thru, and Pal Barger has installed a phone that motorists can use to place their order instead of yelling through a speaker.
Hardee's location on East Stone Drive is still there. And Greg's Pizza is still open in Johnson City.
I know I must have missed some. And I'm sure you'll let me know. All I'm asking is that wherever you choose to dine, think carefully about the end of the spoon to put in your coffee.
Readers can contact JH Osborne at [email protected].
[ad_2]