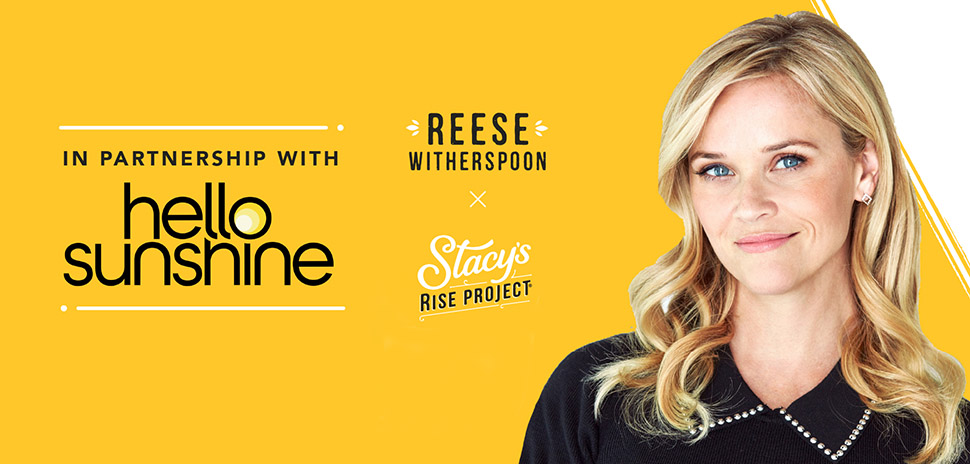 Stacy's Pita Chips partners with Reese Witherspoon to amplify founders and announces finalists for the Stacy's Rise 2021 project »Dallas innovates
Plano-based Stacy's Pita Chips has partnered with Oscar-winning actress and producer Reese Witherspoon and Hello Sunshine, the media company she founded, to help elevate founding women nationwide.
The partnership will help spotlight two other Stacy's announcements today: the 2021 Stacy's Rise finalists and the launch of FoundedByHer.org, an online directory of founders across the United States.
"I really believe that when a woman gets up we all stand up, and that's why my team at Hello Sunshine and I partnered up with Stacy's, starting with the Stacy's Rise 2021 project," Witherspoon said in a communicated.
"This partnership and project is so important because it not only provides essential funding, but also unparalleled support through mentorship and relationships to help women founders take their business to the next level," she added. .
Stacy can identify
Stacy's itself is a brand founded by women, which has grown from a simple sandwich cart to national distribution. Now owned by Frito-Lay, it builds on the legacy of Stacy's Rise, a grants and mentoring program dedicated to helping women grow their businesses.
"This is just the beginning of Stacy's work with Hello Sunshine and Reese to spotlight remarkable founders and continue to build a community of empowered and supported women," Ciara Dilley, vice president of marketing for Frito-Lay, said in the statement.
Dallas Innovates wrote about Dilley's passion for the project last year. We also wrote last year about a local winner of the Rise 2020 project, Chi Nguyen de Plano, founder of Purpose Tea.
Stacy's Project Rise demands increased by almost 300%
2021 is a pivotal year for Project Rise, which has seen a huge surge in interest from founders nationwide. Stacy's and long-time partner Hello Alice received an almost 300% increase in grant applications over previous years.
Each of this year's 10 winners will receive a $ 10,000 grant, mentorship from executives at Frito-Lay and PepsiCo, and the opportunity to participate in a lecture series featuring Frito-Lay executives and famous founders.
Winners will join a community of past and future winners, whose support and connections could further help them realize their business dreams.
Stacy's survey of 500 female founders
This year, Stacy's wanted to better understand the challenges and opportunities faced by women founders. So she commissioned a survey of 500 American women who currently own or plan to own a for-profit business.
A key finding was that unconscious prejudices, prejudices and social stereotypes act as barriers for female founders.
More than a third of respondents (34%) believe that they frequently experience unconscious bias from other people. And 76% think they've faced challenges that their male counterparts haven't.
The survey reinforced the importance of having a support system of female leaders and mentors – over 45 percent of respondents said it was very important.
FoundedByHer Business Directory
To help alleviate the barriers women founders face and give them more visibility, Stacy's launched the FoundedByHer business directory on FoundedByHer.org. The directory offers the ability to search for founders by postal code or business category. Founders can register their business for inclusion in the directory, increasing their opportunities and brand awareness.
To celebrate Women's Entrepreneurship Day on November 19, Stacy's is offering the opportunity to support female founders through gift boxes selected by FoundedByHer representing a variety of founders featured in the FoundedByHer.org directory.
10 finalists of the Rise project
Here are the finalists for the Stacy's Rise 2021 project:
Sara fludd, St. Petersburg, Florida who founded Pop Goes the Waffle, an innovative waffle company dedicated to authentic Cork waffle through retail, wholesale and e-commerce.
Samotria holmes, Simpsonville, South Carolina, who founded Holmes Sweet Home, a specialty food producer that focuses on quality ingredients and supports the local economy.
Marsha Stephanson, Pflugerville, Texas, who founded Cater to Mom, a monthly subscription to postpartum self-care for new and experienced moms.
Sue Kakuk, Minneapolis, Minn., Who founded Kakookies, delicious on-the-go cookies made with real food ingredients and plant-based protein providing the nutrition of energy bars with the softness and comfort of a cookie.
Jocelyne ramirez, Los Angeles, California, who founded Todo Verde, a Mexican plant-based food company based in east Los Angeles that creates culturally relevant dishes.
Adrienne walker, Capitol Heights, MD, who founded BlueHenry LLC, a manufacturer of quality all-natural beverage fittings. They produce dehydrated fruits, simple syrups, as well as salts and icing sugars primarily used to amplify craft cocktails.
Amber Balakian, Reedley, Calif., Who founded Balakian Farms, a manufacturer of CPG fruit and vegetable products. They are currently producing organic mixed heirloom tomatoes.
Alberta Liao, Millbrae, Calif., Who founded Jinka, the first vegan tuna spread in the refrigerated section with the goal of providing a clean, healthy, sustainable and delicious alternative to tuna for people looking to incorporate more based foods. of plants in their diet.
Julie boucher, Estero, Florida, who founded The Vegan Knife, a company that offers a line of anti-allergic and vegan cupcakes / cakes and donut mixes. All of their baking mixes are gluten free, wheat free, dairy free, egg free, soy free, nut free and vegan.
Sajani Amarasiri, San Francisco, Calif., Who founded Kola Goodies Inc., which makes plant-rich superfood latte blends to boost energy, mood, immunity and well-being. Made with ingredients directly sourced from South Asian farmers' collectives.

Subscribe to the list.
Dallas innovates, every day.
Sign up to keep tabs on what's new and what's next in Dallas-Fort Worth, every day.