TurningPoint Resources for Students | Digital Learning Office
A Turning account is required for all users. If you don't have an account yet, you can create one directly from WebCampus. A college email address, for example @ nevada.unr.edu, is recommended but not required for Turning account registration. If you already have an account, you will need to log into your account from WebCampus to link them (your WebCampus account and your Turning account). You only have to do it once. You need a valid Turning subscription to use TurningPoint.
Refer to the information below to create and register your Turning account, connect it to WebCampus, purchase a subscription, and download the mobile app.
Revolving account registration, WebCampus connection (Canvas) and subscription
Step 1: Log in to WebCampus using your NetID and password.
---
2nd step: Navigate to the Turning Account registration page.
In the "Global Navigation Menu", click on the "Account" icon / link, then click on the "Revert Account Registration" link. You will be redirected to the registration / login page for your Turning account. See Figure 1 for a visual example.
---
Step 3: Create and link your Turning account.
On the Turning Account Login page, your email will already be populated on the page. See Figure 2 below for a visual example of the following instructions: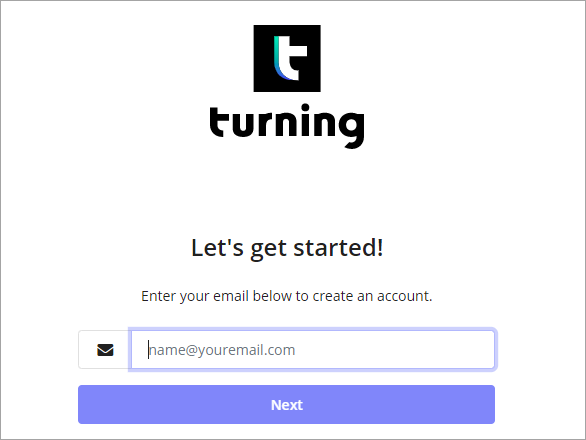 If you don't have a Turning account. If you don't have a Turning account, enter your UNR student email (highly recommended) and click Next. A verification email will be sent to the email address you entered. Click the verification link in the email to complete the registration process. Make sure you choose "Participant" as the role.
If you have a Turning account. Click on the "Login" link to log into your account. This will link your Turning account to WebCampus and sync your class attendance notes.
REMARK: You are not required to use your University issued student email address. However, using the student's email address issued by the University allows you to purchase a one-year subscription at a reduced price ($ 15 / year). You can change your email address after you have created and logged in your Turning account.
---
Step 4: Buy a subscription.
Once the registration process is complete, you will continue with the registration wizard and purchase a subscription. Click on the Let's start button to continue.

You will see the one-year subscription option on the next screen ($ 15 for UNR student email addresses; $ 24.99 for non-UNR student email addresses). Check this option and click Next.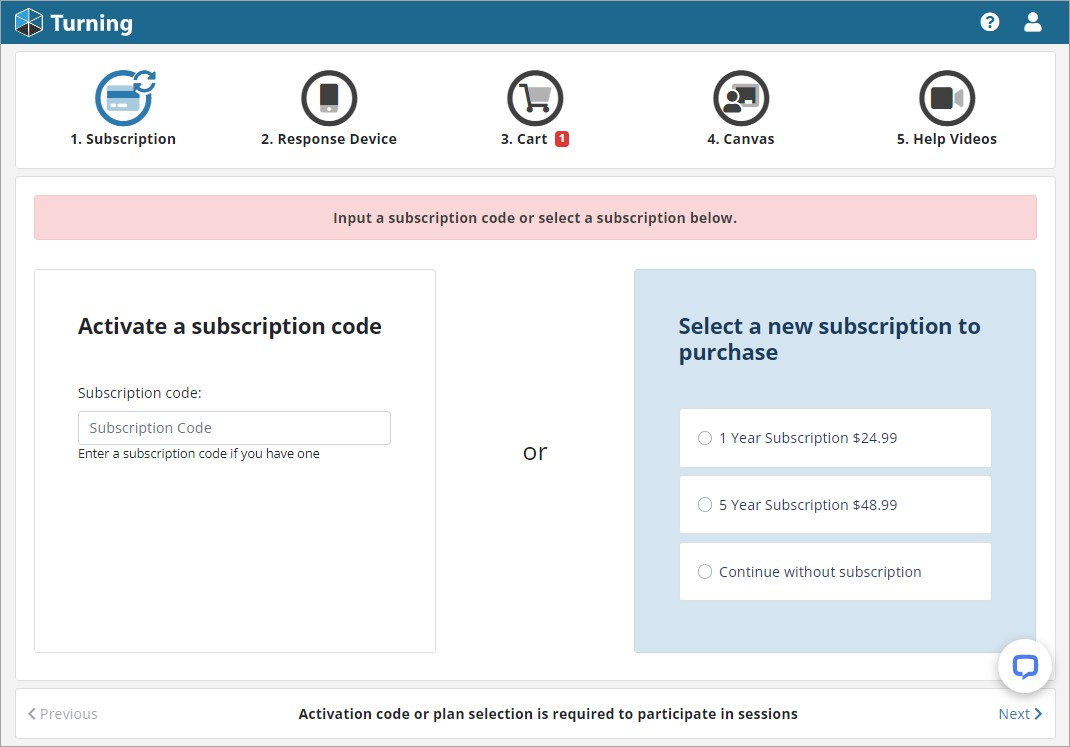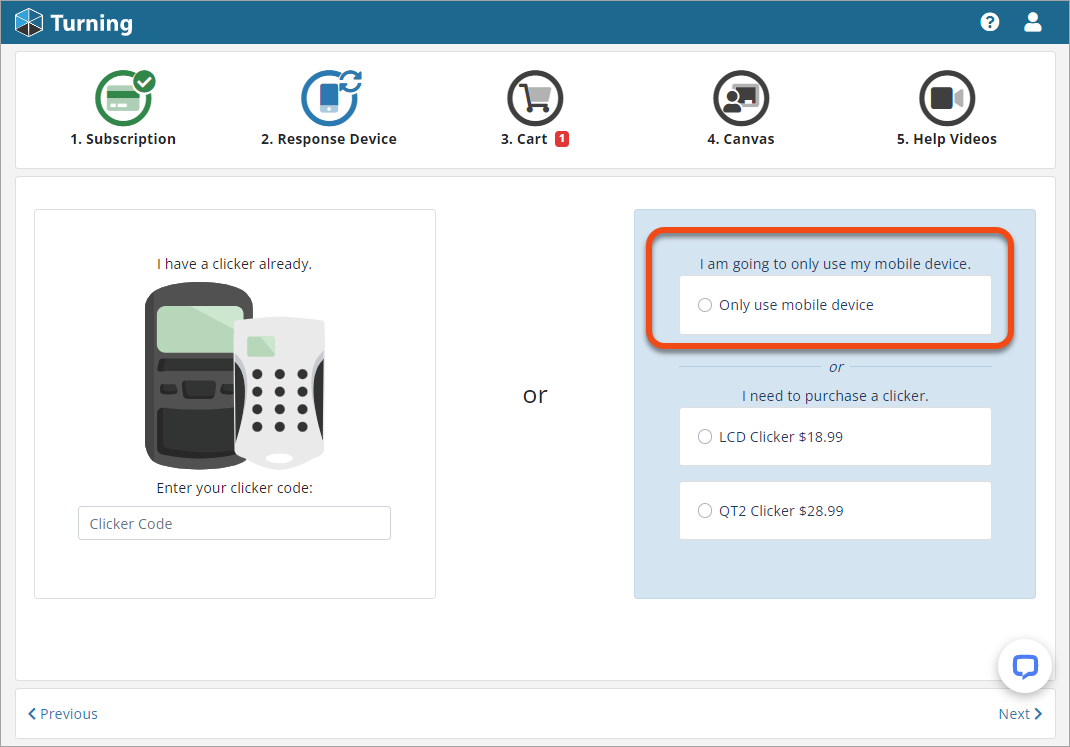 After making the purchase, you will see on your profile that you have an active subscription with the expiration date. You should also see a green check mark under Learning Management System, indicating that your WebCampus account is connected to the Turning account. You are ready to participate in the classroom survey activities.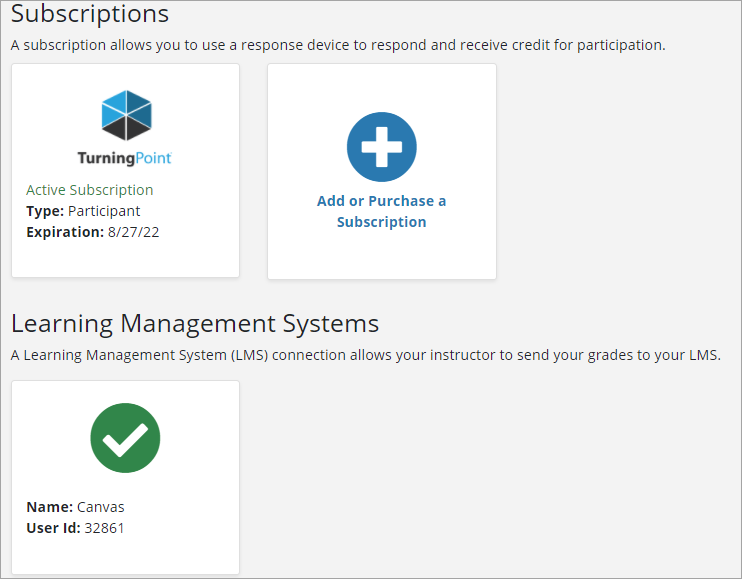 TurningPoint Subscriptions / Licenses
A subscription is required for all students. Student responses to survey questions cannot be tracked and recorded without a valid license. You can purchase the subscription directly from the Turning Technologies online store.
Log into your Turning account and follow the fourth step above to purchase a subscription.
Subscription rates
One-year membership: $ 15.00 (with UNR student email address) or $ 24.99 (with non-University of Nevada, Reno email address).
TurningPoint mobile app
Students answer survey questions in class using the TurningPoint app on their mobile device (smartphones and tablets). The app can be downloaded for free from the App Store or GooglePlay. A subscription is required to use the app. You do not need to register your phone in your Turning Technologies account. All you need to do is log into your account in the app.
Using the TurningPoint Mobile App in the Classroom
Follow the steps below to participate in classroom survey activities using the TurningPoint app:
Open the TurningPoint app on your mobile device
Log into your Turning Technologies account (if you are not logged in)
Enter the session ID and press Join the session. (You may be asked for your name.)
You are ready to participate.
To note: You don't need to log in every time to use the app. Once logged in, you should stay logged in for a while. You need to enter a session ID for each class.
The web (browser) version of the TurningPoint application can be accessed from your Turning Technologies account dashboard. Go to the TurningPoint participant website ttpoll.com, sign in to your account, enter the session ID. You are ready to participate